Time-Sensitive: Get FREE access to this exclusive tool specially designed for affiliates while memberships are still available...
"Explode Your Affiliate Income With
This Never-Before-Released, Insider
Tool That Instantly Uncovers And
Pinpoints More Hot-Selling, Juicy
(And Even Unexploited) Clickbank™
Affiliate Products To Cash-In From"
"For A Limited Time, You Can Gain Unlimited Access To
This Exclusive Tool For The Absurdly Low Investment
Of Just $9.97/month — FREE! — For A Limited Time"
Date:
Dear Affiliate Marketer,
What if you could spot dozens of new highly-profitable, fast-selling affiliate products from Clickbank™ to promote in under 1 minute? What if you could get priority access to a fresh list of the newest products on Clickbank™ at any time, so you can promote them and take advantage before everyone else?
Well, that's possible with CBSpy™, a brand-new tool that I just released, and that I'm making available to only a selected group of people for a limited time.
But before I get into that, let me show you all the advantages and powerful tools that CBSpy™ gives to you:
Product Trends And Information
If you're thinking of promoting a product as an affiliate or considering a market to enter, then you'll most likely know that one of the best things you could use to determine if it's a good product or not, is to see how that product has performed in the past in terms of sales.
With CBSpy, you'll have instant, fast access to detailed ranking trends for ANY product in the Clickbank™ marketplace. You'll be able to see the rank, status, and ranking change history at the click of a button, as you can see in the screenshot below.
You'll be also able to see the history of affiliate commission rates for a product, which will help you determine future trends and past results.

Furthermore, you'll get access to detailed information of any product, like the affiliate commission rate, the earned per sale amount, the product gravity (an indicator of the level of sales), the rate of sales coming from affiliates (Referred %) and more.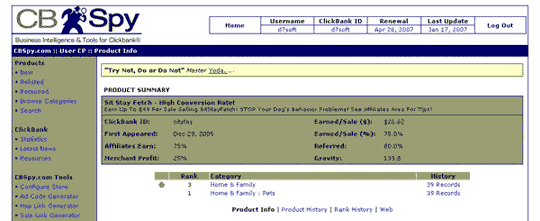 Product Search Engine
Clickbank™ is undoubtedly a great resource, however, I've personally found that it's search engine is lacking in features and very time-consuming to go through the marketplace and look for specific products to promote that match a certain criteria.
Well, with CBSpy™ now you can search for products in the Clickbank™ marketplace that match any commission percentage, product ranking in the marketplace, product category, or particular keyword that you choose, and get the results almost instantly! (Take a look at the screenshot below to see how easy it is)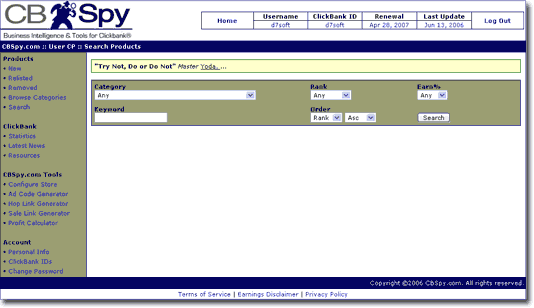 Adsense-Like Clickbank™ Ads Generator
Now, what if you could earn additional residual income off your content sites by just adding a simple piece of code to your pages that displays Clickbank™ ads, just like with Google Adsense, and that makes you cash whenever someone buys a product from the ads?
Using CBSpy™, you just have to specify the keyword/theme and the settings you want for your ads (like ad type, direction, number of ads, dimensions, colors, etc) and paste a simple piece of code into your pages, and voila! Now you will start earning off additional cash from Clickbank™ products without even having to promote them.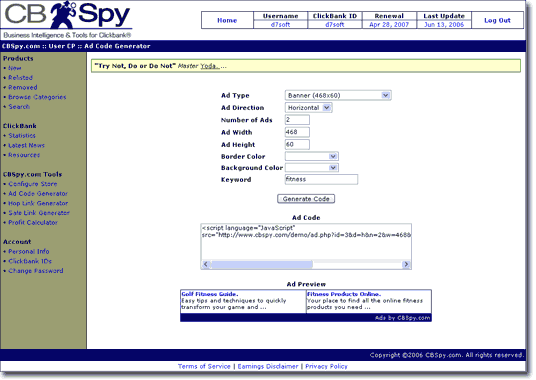 "New, Relisted, and Removed" Product Lists
With these automatically-generated, always-fresh lists you'll always have access to an insider look of all the new products that have been added to Clickbank™, as well as all the products that have been just removed or relisted on their site.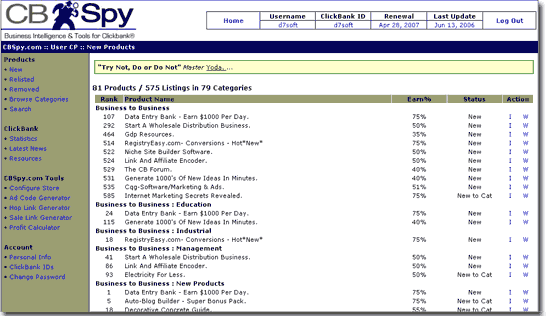 Your Own Clickbank™ Store
Ever wanted to have your own Clickbank™ mall to earn additional affiliate income from? Well, with CBSpy™, you'll automatically have your very own and customizable Clickbank™ mall already made and ready-to-go for you.
You can select which categories you'd like to show on your online mall, as well as the HTML content you'd like to put on your pages.
Just select the options you'd like for your store and promote the link that's given to you, and that's all. No HTML or page building is neccesary. Your very own Clickbank™ store will be already made for you at the time you start using CBSpy™.
Click here to view a sample Clickbank™ store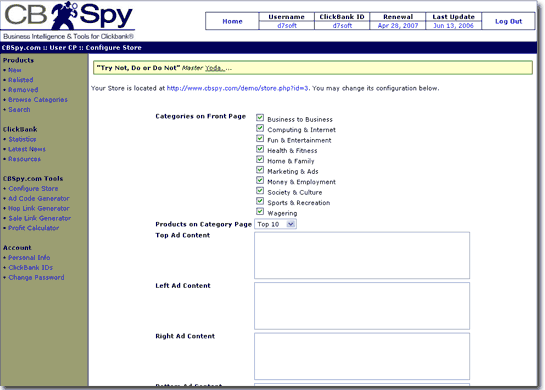 Hop-Link and Sale-Link Generators
If you ever had trouble getting the right hop/sale links to use, with CBSpy™ it's a breeze! Just enter your affiliate ID, the vendor ID (or the product name and number), and CBSpy™ will instantly give you the hoplink/salelink URL.


"A truly amazing set of tools..."

"Hey Rod, just wanted to drop you a note to tell you that I'm impressed with CBSpy, it's a truly amazing set of tools, and I don't even have to pay for them!

I specially love the product trends and the search engine, which I find really useful when I'm doing market research or searching for new products to promote or create.

Keep it up man!

— Abraham Lopez

Instant Profit Calculator
Want a quick way to know how much can you profit for any affiliate product without having to use a calculator?
Just provide the product price and the commission percentage and CBSpy™ will give you the exact profit for you. Or give it the commission percentage and your profit and it will give you the product price. It's that easy.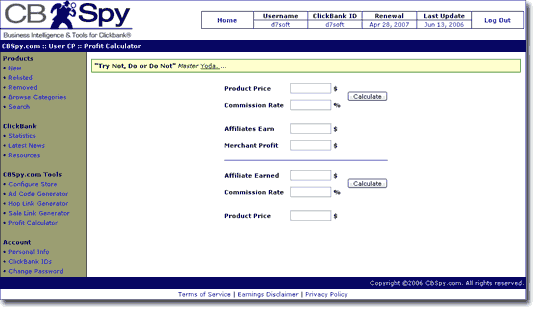 Fast Product Browsing By Category
If you ever wanted a quicker, more efficient way to browse all the product categories and profit-producing niche markets in the Clickbank™ marketplace, CBSpy™ will allow you to do that in a snap.
By just selecting the product category or niche that you want to browse, CBSpy™ will instantly show you ALL the products for that category (no more tedious page-by-page browsing!), ordered by the ranking of each product in the market place, and including the product name, the affiliate commission percentage, and quick access to the complete product information.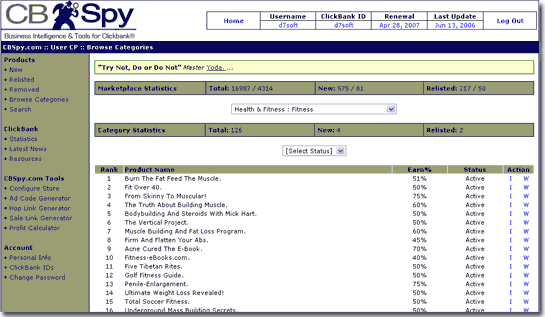 Just imagine all the powerful product research you could do with all these tools... from finding profitable markets you can promote to using the trending feature to tap into new markets with unexploited potential to fast market search and much, much more...
What's more... I constantly add new features and updates to CBSpy, which means that as long as you reserve your spot now (which is still free for a limited time) you'll get lifetime updates and upgrades at no charge, even if we start charging for this service later!
"You Gotta Take Advantage
Quickly While It's Still FREE..."
To be open with you, I'm not sure how many free memberships I'll be able to give away before the web servers on which CBSpy runs are close to their maximum usage limit, so you gotta take action now and claim your free membership (a $9.97/mo value) while spots are still available.
Other services charge you from $10 to $20 monthly for this, but you can get free instant access to all these powerful tools and features with your CBSpy membership.
After all the spots are filled and the web servers are close to their usage limit, the doors will be closed and no more free memberships will be allowed in. The only way of getting access after this happens will be by getting into the waiting list until more spots become available again and possibly paying a premium priority access fee.
To your affiliate success ,

Rod Beckwith
CBSpy.com
P.S.

I can't stress this enough: The capacity of the servers where CBSpy runs is limited, so once all the spots are filled up the doors will be slam shut.

Now, to be open with you, I'm not certain when this will happen, but I can tell you that due to this uncertainity, this could happen in one month, the next week, or even tomorrow.

Why wait? Just use the form above to secure your account now. It's still free, anyway.
P.P.S.
Imagine how much extra cash can you make from just using the Adsense-like Clickbank™ ads and the Clickbank™ store included with your CBSpy membership.

And that's without taking into account the potential of using the trending features, the product search engine, and the other tools.

And the best of all? It's still FREE to join. Just click here to secure your account now.
Rod Beckwith
80 Cabrillo Hwy N.
Suite Q-115
Half Moon Bay, CA 94019
Email: rod@cbspy.com
Copyright © 2008 Anywidget LLC. All Rights Reserved.
Important Notice: There is no affiliation, endorsement, or sponsorship by Clickbank™ or any other person or entitiy of this website, its products or any newsletter or publication entitled CBSpy™ that may be offered for sales or distribution herein.